Imagine living as prey to nameless and faceless predators in a country far away from your own, whose crimes against you are protected by their relative anonymity on the internet.
And imagine if the people who are putting you in front of a webcam, exploiting you for money, are the very ones who were supposed to protect you.
What kind of a life would that be?
According to the International Justice Mission (IJM), cybersex trafficking is the live-streaming sexual abuse of children viewed and directed over the internet. Underaged girls and boys are placed in front of a webcam and are forced to perform sexual acts with adults or other children.
At the Justice Conference Asia this year, speaking on the prevention of cybersex trafficking, Lucile Dejito of IJM Philippines revealed that from 2011 to September 2019, 77% of local traffickers were family members, close relatives or neighbours to the victims.
"These perpetrators were people who had easy and unopposed access to vulnerable children," Dejito commented. Of the victims rescued, 87% were children; 50% of them aged 12 years or younger.
Imagine the terror of being exploited for online cybersex crime and the utter helplessness of being exploited by your own family members. For all who live in the darkness of exploitation and modern-day slavery, that's their everyday reality.
Dejito also revealed that cybersex crime in the Philippines has become a crime of opportunity and not just a crime of poverty. One exploiter even requested for a branded bag as payment, she said.
Cybersex crime in the Philippines has become a crime of opportunity and not just a crime of poverty.
Perpetrators and traffickers cut across social strata because the dealings are secret and easy enough for them to get away with it. 
Dejito added that since IP addresses are shared among households in dense Philippines towns, it adds to the complexity of locating and tracking down the exact homes in which the crimes are being committed.
IJM works around the world to free people trapped in slavery and to protect the poor against brutal violence in the developing world.
In addition to rescuing victims of cybersex exploitation, it also works to protect victims of sex trafficking, land theft, citizenship rights abuse, forced labour slavery and more.
FOR THE CHANCE OF A BETTER STORY
Also at the Justice Conference Asia was Nattakarn Noree from The A21 Campaign, a non-profit that is committed to abolishing slavery in the 21st century.
A21 began in Thessaloniki, Greece, to fight the slavery trade in Europe. It has since expanded their reach to 14 locations in 12 countries with Madrid, Spain, being their newest.
Often talked about in numbers and statistics, slavery is a trade well and alive – a fact that shocked A21 co-founder's Christine Caine when she first heard of it from a friend who was working with the UNICEF.
A21 said that the slave trade industry is worth US$150 billion yearly, and only 1% of those trapped in it are ever rescued.
They write: "The heart of our organisation is the one. The one woman, the one man, the one child trapped and exploited, unable to see another end to their story. But we see the one, and we fight for the one, and we sacrifice to restore the one… to give them freedom and independence and the chance at a better story."
Based in Thailand, Noree told the audience about one such story, of a young boy who was reached by A21 through a talk they conducted at his school.
At that talk, A21 partnered with the local police force and children were taught how to report suspicious activity to the police. Before the session ended, that young boy came forward to say that he thought he might be a victim.
The boy, an aspiring architect, helped police nab the offender based on his accounts of the house where he was being sexually exploited. 
He felt so shameful that his videos were being used and shared in online porn sites. The boy had prayed several times for God to help him, but nothing had happened. Then, in his words, one day A21 came to his school – that showed him that God was real.
Noree also added that vulnerable children are being targeted on Facebook, Instagram and Line, and victims don't just come from rural areas but also middle-class and rich families.
This is not just something that happens elsewhere. Human trafficking also exists in Singapore.
According to Hagar International, "Singapore is a popular transit point and destination hub for trafficking activities, where women and girls are trafficked into the country for sexual or labour exploitation."
WHAT CAN WE DO?
1. Make a difference: Raise awareness of what human trafficking looks like
A21's Noree outlined some ways we can contribute to the fight against modern-day slavery, the first of which is to be aware: Be aware of what slavery in our day looks like – know the signs of human trafficking and who to contact when you spot something suspicious. 
Then, consider hosting events in your schools, workplaces or communities, that raise awareness of human trafficking and exploitation; organise a fundraiser to support the efforts of organisations leading the fight; or join a team who is already doing something you want to do.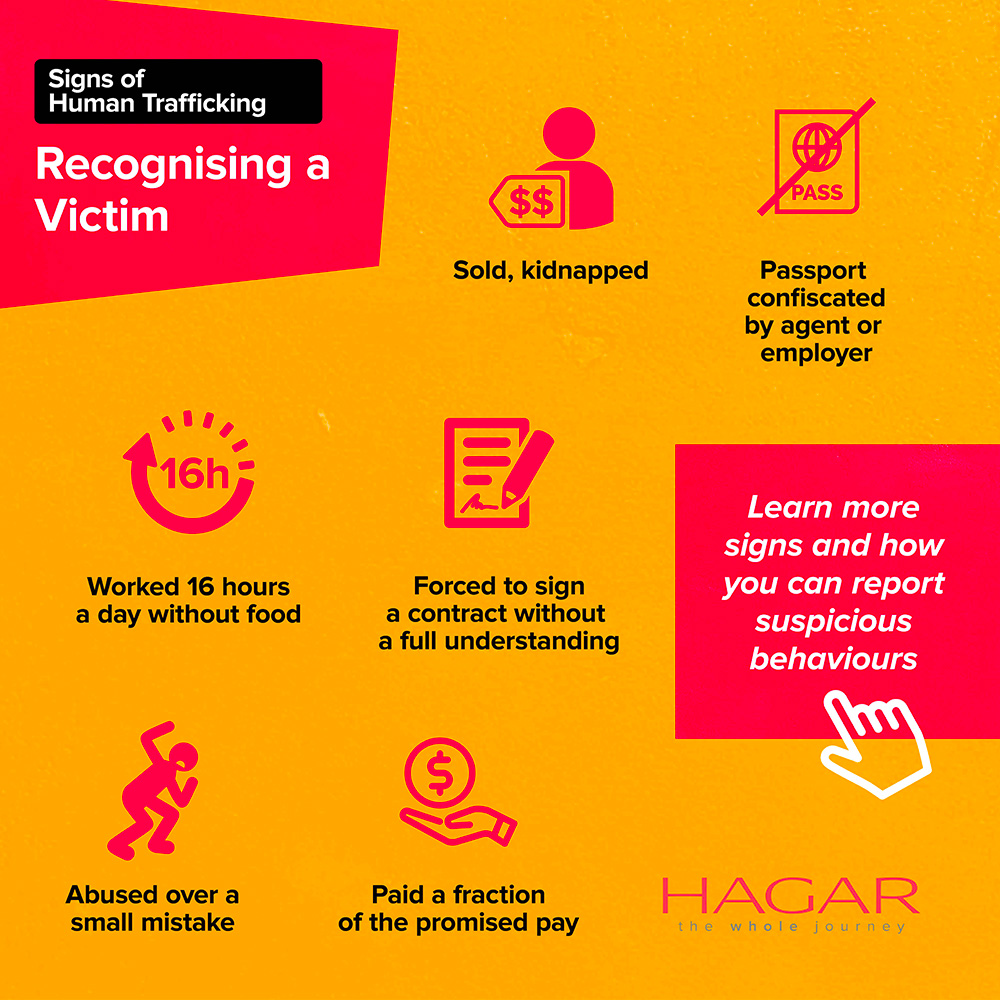 Restoration of abused and victimised persons is a journey that spans medical care, reintegration, education, life skills support and employment.
Is there a community that is committed to life transformation within your city that you can be a part of and support? A few of these organisations include Hagar Singapore and Tamar Village.
If you have time or resources on your hand, would you consider donating or volunteering with them to make a difference?
2. Bring creative solutions into the tech industry
Dejito pointed out that with end-to-end encryption and better obfuscation methods, it may make it harder to detect cybercrime.
But the industry is a creative one – so how do we harness its creative potential to come up with clear solutions to counter cyberexploitation?
Several months ago, Facebook announced that it would open-source two of their algorithms to identify child sexual exploitation, terrorist propaganda and graphic violence.
These algorithms have been released to coding community Github, and Facebook hopes that "other tech companies, nonprofit organisations, and individual developers will use the technology to identify more harmful content … (helping) platforms remove the content more quickly when people attempt to upload it."
The better we are able to use technology to detect exploitative content as they are being transmitted, the more chances we have at stopping the perpetrators and rescuing the victims.
If you have a gift in this area, would you consider how you can offer it up to bring creative solutions to very real needs?
FREELY RECEIVE, FREELY GIVE
The Thirst Collective of websites is supported by individuals and organisations. Your donation will go to funding the generation of more faith-based content to sow into the digital domain.
DONATE